It are mah face.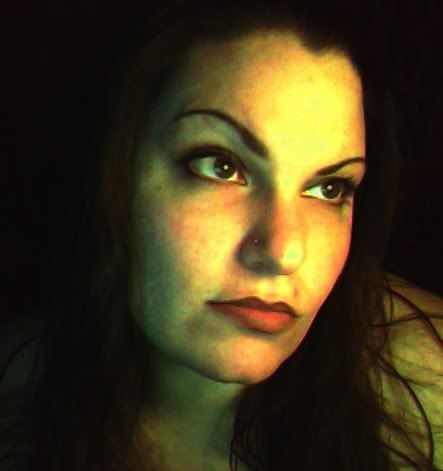 Not bad for 32.
I recently got my refund check from the IRS so I splurged and spent $50 on an Urban Decay sampler. It's called "Naked" and it came with a brush, primer, and 12 samples of very neutral tones. I happen to ADORE neutrals, browns, blacks. Shocker, I know. Contain yerself.
Anyrate. After about twenty years of playing around with make up, this is the first time I've ever truly bought anything of superb quality. Most of my make up has been shady dealings with CVS and the magazine brands.
Granted the picture above was curved a bit, because the tones were odd. But you can get the idea of what I've done to my eyes.
So far I'm REALLY enjoying the primer. I am Italian. I am greasy girl. I get real heavy lines in my lids from the folds and the natural oils building up. So the primer STOPS that from happening. So I get HOURS of my make up looking good. Instead of like, 20 minutes. Or the first sweat.
Good times.
Anyrate. That's my procrastination for this evening. I should have been reading my psych. Now I'm going to bed late, cause I did my make up (okay, my eyebrows REAAAALLLY needed to be done) and THEN actually did my homework.
Whatevs. :)