Anyboo. Today was.. a day. WOO!
Today Danni & I had our weekly Danni Synn Tuesday and we actually both finished our lunch and dessert. THEN! We came back to the house and we washed our cars for like 3 friggin hours.
Poppet is so sparkly. I loves her! She is so expensive. I'm back to working for my car again. ooOOooh well. I love her. She's so.. reliable. And good with gas. And... now, she's RainEx'ed. :D
What else is going on. It's weird typing entries now. Back in the day I was talking TO people. Now it really is like a journal. Kinda just for me to keep my history. :)
Right now I'm watching Andrew flail about in his sleep. He's getting quite uppity with his blankets.
OOh, today, our waitress, Mindy, who is our regular waitress at the Double T, thought I was 22/23. HAHAHAHAH. I was like "WHAT." She was confused when I said I'd been at my last job for 10 years. That esplained it a bit more when I was like "oh hunnie."
Then, at FREAK later, someone else thought I was like, "wow, I thought you were tops 25". HA! Again, talking about the last job. It's strange that it came up twice in one day, but whatever.
A friend gave me a job listing for a legal secretary, so maybe that's why. It's in NoVa, but whatevers.
After Hurricane Irene hit, a lot of MD didn't have power, so the Wifey (Devon) came over to abuse our power & interwebs since it'd been about 24 hours and her house still didn't have any.
She took this picture of my adorable cat.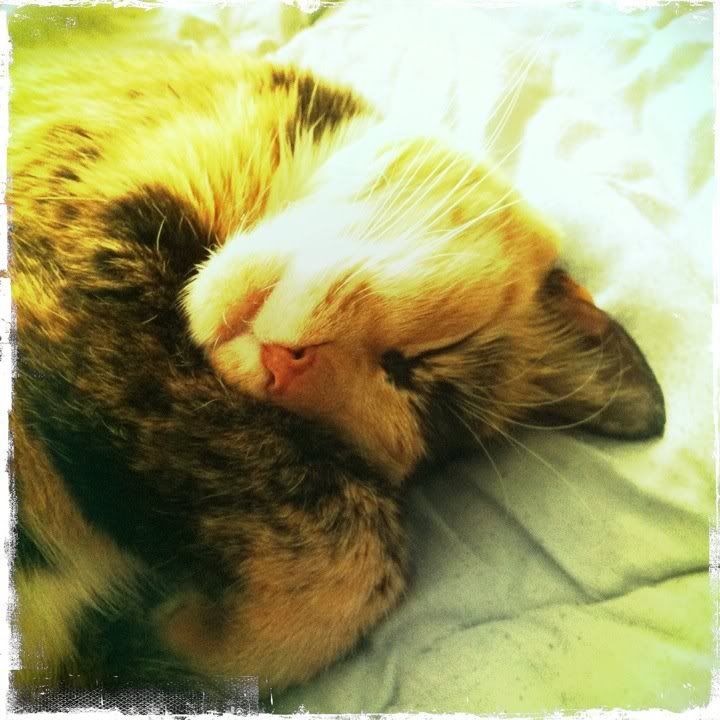 EEE! So cute.
Also, I cannot believe how fucked up the north is about the hurricane. Bitch FUCKED shit up. Part of 287 is just washed away!
Fucking crazy!!
*sigh*
Tomorrow I actually have nothing planned. Maybe I'll do some laundry. Read. Something. :)